Jim Gallup
New Mexico Production Sound -
Field Mixer / Location Audio Recordist.

Professional On-Location Production Sound Mixing / Recording
for - Network Broadcast Television
HDVideo Camera Crew ⋅ DSLR Video Production ⋅ Film.

Experienced Freelance Over-the-Shoulder Audio Bag-work Specialist
for - Documentary ⋅ Lifestyle ⋅ Actuality ⋅ Reality ⋅ ENG / EFP.
Photos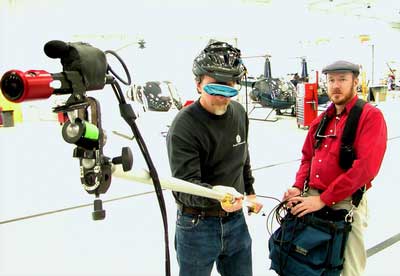 D.P. Barry Kirk wears Sony Eyetron monitor glasses as he
and I work on Learning Channel's "Gizmos and Widgets".
We're at the Robinson Helicopter factory in Torrance, Ca.
The Sony X999 Lipstick camera Barry's using, mounted
with a Peter Engh No-Goose microphone, captures the
action up close without getting in the way.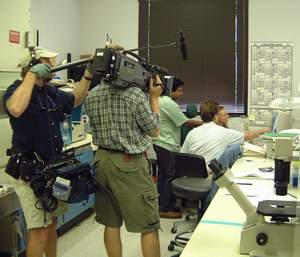 NOVA "Bioterror" - Los Alamos National
Laboratory, New Mexico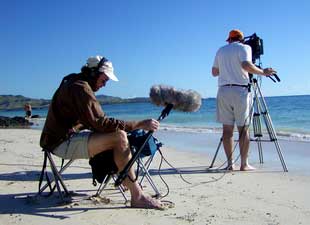 Fine Living Channel "Private Islands" - Turtle Island,
Fiji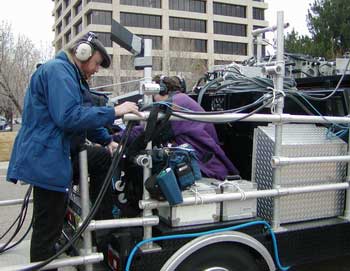 On the back of a process trailer for Eye Associates'
"A Clearer Vision" commercials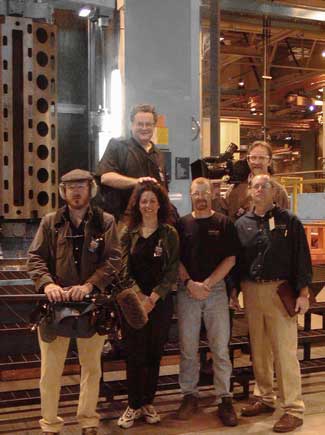 Learning Channel's "Gizmos and Widgets" - "Big Engines"
segment. The crew and Caterpillar representatives are at the
Lafayette, Indiana Caterpillar plant.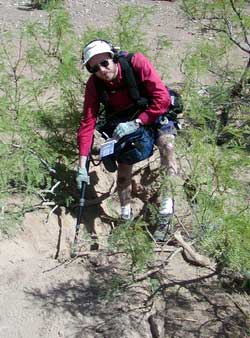 BBC's "Wildlife on One" series - "Wolf"
I'm listening for wolf pups in their den in
the Sevilleta National Wildlife Refuge.